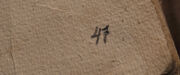 "Page 47, just have a look at that."
― President of the United States
Page 47 is one of the many pages in the Book of Secrets, which contains all the secrets of the history to the United States.  
Interactions
Edit
Mount Vernon (Mentioned)
Edit
The President of the United States asks Ben to read Page 47 in the Book of Secrets after the kidnap in Mount Vernon and when he's freed.
Library of Congress
Edit
Ben can be seen in the Library of Congress taking a photo with his cellphone on page 47 in the Book of Secrets, just before Peter Sadusky and his police force arrives, and his team discovers the second wood carving in the pages.
Meeting with the President (Mentioned) 
Edit
After Ben and his family and friends managed to escape from the city of Cíbola, they were greeted by the president in a military headquarter(?). There the president asked him if he did the favor and took a look at the page, and Ben replied "It's life-altering, sir".  
Appearances
Edit
Ad blocker interference detected!
Wikia is a free-to-use site that makes money from advertising. We have a modified experience for viewers using ad blockers

Wikia is not accessible if you've made further modifications. Remove the custom ad blocker rule(s) and the page will load as expected.